Halloween Delights and Haunting Days and Nights in Los Angeles
By Dolores Quintana
Halloween, the true apex of the spooky season, is fast approaching, and here is a list of family-friendly events all over Los Angeles where you and your family can celebrate one of our favorite fun and scary holidays.
1. Halloween Trick-or-Treating at Brentwood Country Mart (October 28 – 31)
Start your Halloween journey early with a visit to Brentwood Country Mart, where the Honor System Pumpkin Patch and Halloween Trick-or-Treating await. Join the fun from October 1 to October 31. You can find more information on the Brentwood Country Mart website.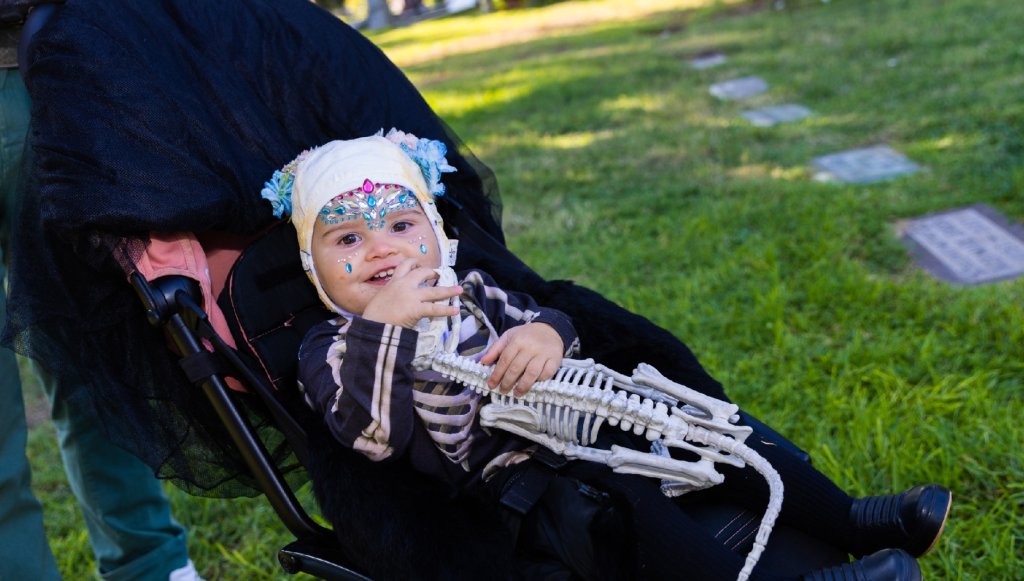 2. Paramount+ Peak Screaming Lodge at the Westfield Century City Mall: 10250 Santa Monica Blvd, Los Angeles, CA 90067. General Admission ticket for one person – Tickets to the experience are available FREE. There will be a Standby Line for those unable to reserve tickets in advance. Join an immersive experience in a haunted mountain lodge and discover all of Paramount+'s terrifyingly awesome content. Explore sets from your favorite shows, like Yellowjackets, A Quiet Place, Pet Sematary: Bloodlines, Scream VI, and more. Enjoy a number of interactive photo ops. Can't make it? Stream the full catalog for Peak Screaming on Paramount+
Dates: October 27 – 29, 2023. Time: select your schedule directly in the ticket selector on the Fever website. Friday: 2:00 p.m. to 8:00 p.m., Saturday and Sunday: 12:00 p.m. to 8:00 p.m. Duration: 50 minutes. Age requirement: all ages are welcome. Some parts of the experience are more suitable for 13+. Paramount+'s Peak Screaming Lodge is an immersive, pop-up Halloween experience riddled with some of Paramount+'s scariest films and series in the heart of Los Angeles. Those who dare will step inside fan-favorite shows and scary movies from Monster High 2 to Yellowjackets to Pet Sematary: Bloodlines, and everything in between! It is available for a limited time only and packed with expertly curated thematic activities.
3. Halloween Happenings at The Americana at Brand:
Get into the Halloween spirit with a variety of events at The Americana at Brand:
Charlie Brown Halloween with Kids Club (Oct. 31)
Halloween at Sur La Table (Now-Oct. 31)
Scoops & Skulls Series at Salt & Straw (Now-Oct. 31)
Halloween Makeup Services at Sephora (Now-Oct. 31)
Halloween Collection at See's Candies (Now-Oct. 31)
Halloween at Ladurée (Now-Oct. 31)
4. Thrills at The Grove:
The Grove has a lineup of Halloween delights, including a Charlie Brown Halloween event on Oct. 26, makeup services at Sephora, and pumpkin treats at See's Candies.
Charlie Brown Halloween with Kids Club (Oct. 26)
Halloween Makeup Services at Sephora (Now-Oct. 31)
Pumpkin at See's Candies (Now-Oct. 31)
5. Palisades Village Halloween Treats
Palisades Village invites you to indulge in Halloween fun with makeup services at Sephora and special treats at Sweet Laurel from Oct. 28 to 31.
Halloween Makeup Services at Sephora (Now-Oct. 31)
Halloween Treats at Sweet Laurel (Oct.28-31)
6. Waterside's Seasonal Delights
Waterside at Marina del Rey has got your Halloween covered with pumpkin season at See's Candies and spooky makeup services at Sephora.
Pumpkin Season at See's Candies (Now-Oct. 31)
Halloween Makeup Services at Sephora (Now-Oct. 31)
7. Downtown Santa Monica's Instagram-Worthy Trick-or-Treating (Halloween Day)
Join the Halloween fun in Downtown Santa Monica on the big day itself, from 3:00 p.m. to 6:00 p.m. on Tuesday, October 31. Enjoy your Halloween adventure with some Instagram-worthy moments in Downtown Santa Monica. Participating businesses will be handing out candy during trick-or-treating hours. You can share your Halloween haunts on Instagram by tagging @dtsantamonica.Find more information on the Downtown Santa Monica website.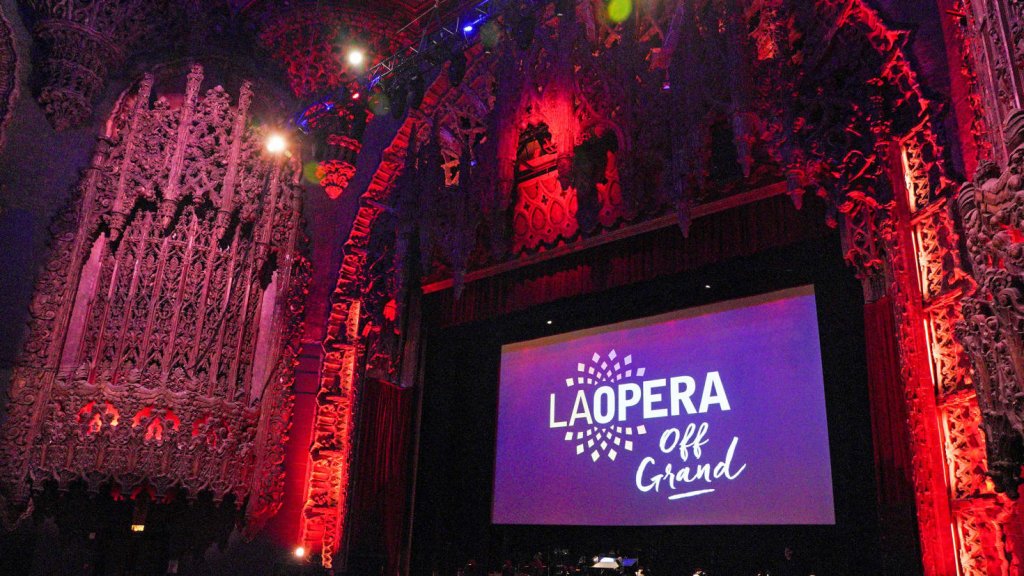 8. The Bride of Frankenstein – A Spook-tacular Screening (Oct. 27 & 28)
Travel back in time to the Golden Age of Hollywood and experience the camp-horror classic, "The Bride of Frankenstein," with a live score performed by the LA Opera Orchestra on October 27 and 28 at the Theatre at Ace Hotel. You can purchase tickets on the LA Opera website.
9. Haunted Little Tokyo Scavenger Hunt (Oct. 28)
For ghouls, ghosts, and goblins of all ages, the Haunted Little Tokyo Scavenger Hunt offers a free, family-friendly outdoor trick-or-treating adventure. Gather treats in Little Tokyo on October 28, and pick up a map at Terasaki Budokan to gather treats at various outdoor locations around Little Tokyo. Visit all locations to receive spooktacular prizes – costumes are encouraged! The event is free and open to the public but requires an RSVP. You can do so on the Little Tokyo website.
10. Haunted Little Tokyo Ghost Tour: Get into the spooky spirit with the first-ever Go Little Tokyo Ghost Tour on Sunday, October 22, for those daring enough to hear the sinister stories of Little Tokyo's ghostly friends. For more information on the Ghost Tour, visit Little Tokyo Ghost Tour for tickets.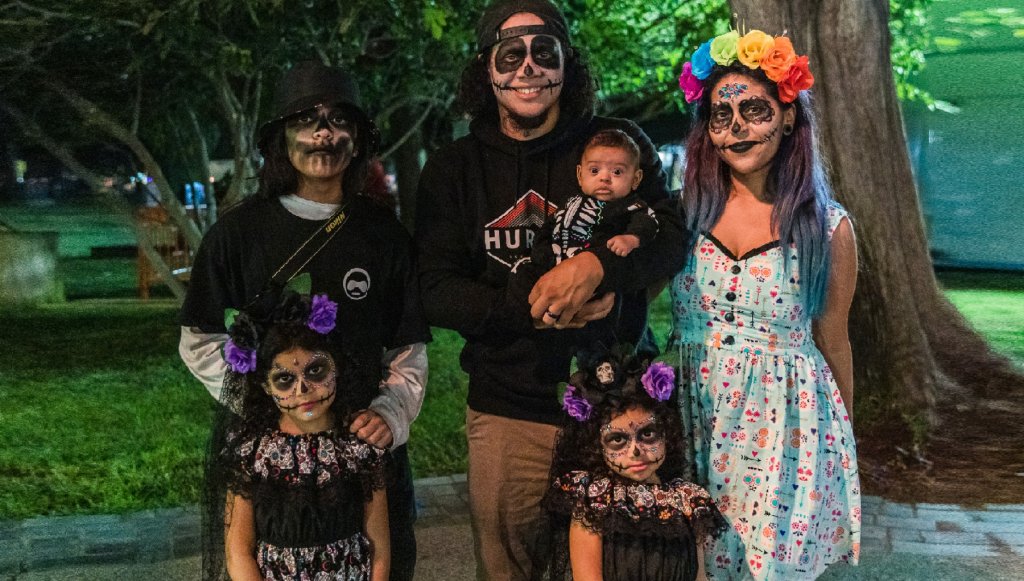 11. Dia y Noche de los Muertos Events at Hollywood Forever Cemetery (Oct. 28)
Hollywood Forever Cemetery returns with its 24th Dia de los Muertos celebration. Experience cultural rituals, artistic performances, and electrifying beats at this iconic event. During Dia de los Muertos (9:00 a.m. – 3:00 p.m.), delight in the enchanting Children's Plaza and explore over 150 Aztec dancers and performers on four spectacular stages. Indulge in delectable food, captivating crafts, and the spirit of togetherness. Enjoy musical stylings from featured artists such as DannyLux and Irene Diaz. Los Angeles' popular DJs, from Altura art gallery studio space located in Lincoln Heights are also set to fuse their beats at the daytime event. Among them are DJ Fuego, DJ Fondo, o Discos Rolas & DJ Cozmic Vibes.
Noche de los Muertos (5:00 pm – 12:00 am PT) – As the sun sets, the festivities reach new heights. Prepare to be mesmerized by the electrifying beats of Bomba Estereo as they ignite the night with their sensational music. Join the jubilant crowd as we dance under the stars, celebrating life and paying tribute to our beloved ancestors. For the nighttime event, you can look forward to beats presented by Nochenegra, a vinyl party all the way from Mexico City featuring DJ Mar and DJ El Keamo. Additional performances to look forward to include Bratty, Camila Fernandez, and Banda Las Angelinas. Tickets are available for purchase here and start at $60 (advanced ticket price).
For the complete lineup and additional details, please visit https://www.ladayofthedead.com/event-info
12. Huluween: Now Screaming is set to terrify West Hollywood this weekend. Join Hulu at the Pacific Design Center for a haunted maze experience that will send shivers down your spine and leave you wanting more. Free tickets are now available for this exclusive event, but hurry, spaces are limited, and it's first-come, first-served! Reserve tickets at Fever.
The event features themed mazes from American Horror Story, The Boogeyman, Annabelle, The Exorcism of Emily Rose, and Goosebumps.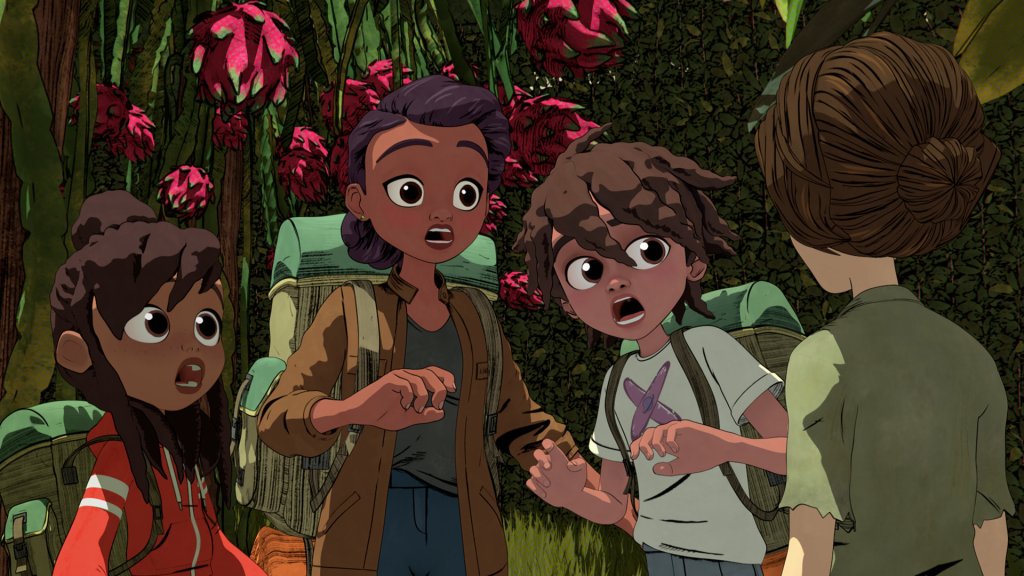 13. Apple TV+'s Spooky Adventure Series, "CURSES!" (Premiere on Oct. 27)
Just in time for Halloween, Apple TV+ launches "CURSES!" – a thrilling series for kids and families on their streaming site. When a generations-long family curse turns Alex Vanderhouven to stone, it's up to his two kids, Pandora and Russ, and his wife, Sky, to return artifacts stolen by their ancestors to their rightful homes to finally lift the curse for good.
The series features the voice talents of Emmy Award nominee Gabrielle Nevaeh ("Monster High") as "Pandora," Andre Robinson ("The Loud House") as "Russ," Emmy Award nominee Lyric Lewis ("Waffles + Mochi") as "Sky," SAG award winner Reid Scott ("Veep") as "Alex," Rhys Darby ("Our Flag Means Death") as "Stanley," James Marsters ("Buffy the Vampire Slayer") as "Larry," Emmy Award winner Rhea Perlman ("Barbie") as "Margie," Tony Award winner Phylicia Rashad ("A Raisin in the Sun") as "Georgia Snitker," and Robert Englund ("A Nightmare on Elm Street") as "Cornelius."
Get ready for a spooktacular season with these exciting events across Los Angeles. Whether you're looking for family-friendly fun or a thrilling night out, there's something for everyone to enjoy this Halloween! Don't miss out on the action.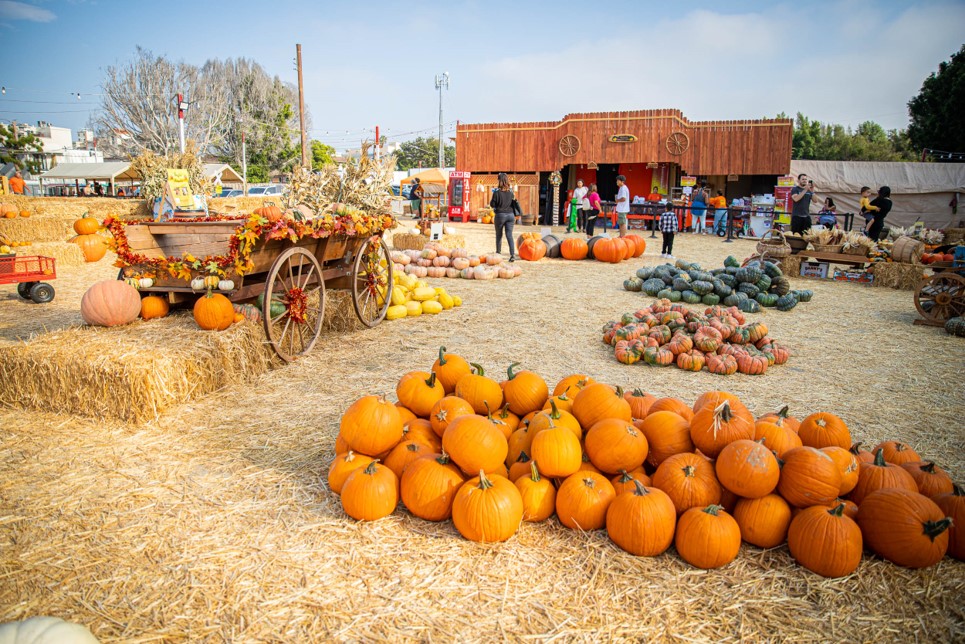 Best Pumpkin Patches:
Mr. Bones Pumpkin Patch: 10100 Jefferson Blvd, Culver City, CA, 9:00  a.m. to 9:00 p.m. daily until October 30,, Phone number (310) 276-9827. Trick or treat event from 5:00 p.m. to 7:00 p.m. on October 28. Rides, food, and events. Must buy admission tickets, which range from $10.00 to $20.00, depending on the day. Each adult gets five dollars in pumpkin bucks with admission. 
Mr. Jack O' Lanterns Pumpkin Patch: 11852 Santa Monica Boulevard, Los Angeles, CA 90025. Open until October 31, from 11:00 a.m. to 8:00 p.m. or 10:00 a.m. to 9:00 p.m. daily. Offers online ordering of pumpkins and pumpkin accessories. Admission: $30 Jack O' Pass: Includes unlimited access to all games & activities, one mini pumpkin, and one session of pumpkin decorating or $25 Jack O' Pass: Includes unlimited access to all games & activities.
Shawn's Pumpkin Patch: 11650 Santa Monica Boulevard, Los Angeles, CA 90025. Open from now until October 31, from 10:00 a.m. to 9:00 p.m., except for the 25th, 26th, 29th, and 30th when it closes at 8:30 p.m. On Halloween, the patch closes at 7:30 p.m. Admission is $2.50. It is pet-friendly and has children's games and activities.
Lopez Ranch Pumpkin Patch & Christmas Trees Trees: 1020 Victoria Ave, Venice, CA, 90291. Quaint neighborhood pumpkin patch with a Giant Pumpkin to climb on/slide off and play in and Animal Hoppers for toddlers. Unique Boutique Pumpkins and many other types of pumpkins and fall decor. Thank you for shopping small, local, and Veteran-owned. Open from 11:00 a.m. to 8:00 p.m. on weekdays, 10:00 a.m. to 7:00 p.m. Saturday and Sunday.
Boos & Brews: 1802 Santa Monica Blvd, Santa Monica, California 90404 Boos & Brews is a family-friendly pumpkin patch that brings a little taste of the farm to the city of Santa Monica. There are lots of activities for kids. Come enjoy bounce houses, games, and fun. We offer great food, beer, wine, and more!
Open
Wednesday 1–9 PM
Thursday 1–9 PM
Friday 1–11 PM
Saturday 11 AM–11 PM
Sunday 11 AM–9 PM
Monday Closed
Tuesday 1–9 PM

Palisades-Malibu YMCA Pumpkin Patch Fundraiser: Simon Meadow, 15551 Sunset Blvd., Pacific Palisades, CA. Open 3:00 p.m. to 6:00 p.m. on weekdays and 9:00 a.m. to 6:00 p.m. on weekends. Open only as long as the pumpkins last.